1st Recipient of the Mari Montgomery Realty Music Therapy Scholarship--Mallory Conner
Sun. October 7, 2012 at 04:47 PM
Congratulations to the first Recipient of the Mari Montgomery Realty Music Therapy Scholarship, Mallory Conner!
Yay for Mallory!!  She is very talented and a lot of fun!  (and a good sport, too)
Check out this silly photo of us "funning" the day we got together.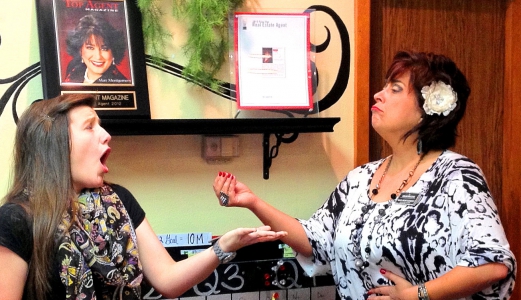 Mallory visited
Mari Montgomery Realty
recently to meet and chat for a bit.  I cannot wait to hear her sing.  She is a really interesting and bright young woman.  She has great vision too and a giving spirit.  She and some of her Music Therapy classmates will be headed overseas this spring during spring break, to help establish a Music Therapy Department in a University that will really benefit from their assistance.
After graduation, Mallory wants to use her degree to work with children, older folks, or any folks in between.
Music Therapy is an important, effective and grossly under implemented way to promote healing, growth, comfort, and all important coping skills in our hectic society.
Why Music Therapy???
I remember when I was in high school and went to a choir workshop/concert as part of an honor choir where I attended Bishop McDevitt High School where I was raised in central Pennsylvania.  The event was at Elizabethtown College about 45 minutes away from Harrisburg in, well, Elizabethtown.
The college was offering a "cutting-edge" music major, "Music Therapy."  I remembered I had never heard of such a thing and became fascinated.  I remained curious about this "Music Therapy" as I decided to major in music, starting as a double major in instrumental education and vocal performance.
My father, God rest his soul, wanted me to major in Accounting,
NOT
music, so that I could get a job after I graduated.  Good idea, eh?  I cried, however, at the very thought of Accounting!  I proudly announced that if I couldn't make it as a music performer, I would learn to do something else.  I attempted to placate him by starting as a double major in music education and performance, but ultimately graduated with a Bachelor of Music with a vocal concentration and went on the obtain a Master of Music degree in vocal performance from the University of North Carolina at Greensboro.
Here is a picture of me and my daddy at graduation when I was conferred a Bachelor of Music degree, magna cum laude (pretty good for a girl who scored an 890 on the SAT)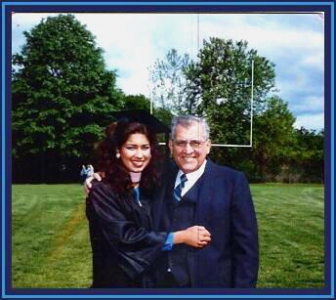 My first job with my Bachelor and Master degrees in tow, was..............as a"receptionist" for $6.21/hour.  I was glad to get that. 
Moving home was NOT an option.
  I was going to make it "ME-self," (a familiar chant of mine as a little girl).
About that time, my Aunt Maria (great Aunt really) offered me an all expense paid visit to the former Yugoslavia to see the country of my heritage as well as study voice with some great teachers as a graduation gift when I finished my Master of Music degree.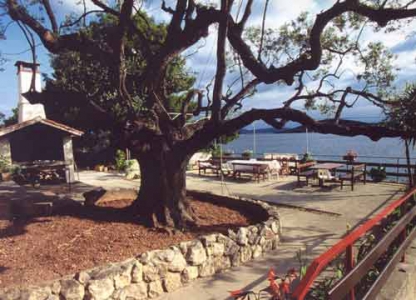 (this is Dugi otok, the fishing village of Luca where my grandfather grew up before he came to this country at Ellis island in the 1910's)
I declined because I had just gotten my "receptionist" job and signed a lease on a studio apartment.   I wanted to do the "responsible thing" and not risk my living situation and new employment.  I still kick myself about that, but I am not sure I would have done it any differently. 
Funny, I seem to have this reputation as a risk taker and a free spirit.  Guess I am a lot more conservative at heart.
But I digress. 
Fast forward to 2012:
One of the most exiting days of my life to date was an unassuming afternoon just after my Wednesday Rotary Club meeting, when I realized that I was finally in the position to make a small difference.  I was always the
"starving artist"
of the family.  I never bought a car MYSELF until last year! 
That day after the Rotary meeting, I realized I could give a scholarship to a MUSIC major in a program that offered excellent employment opportunities upon graduation.  I was
ELATED
to say the least.  I approached my friend Rhonda from Rotary who works at
Sam Houston State University
right then and there and asked how to get it started.  I was on SUCH a high that day.
I am still very excited.  I want to start other scholarship programs under the
Mari Montgomery Realty
banner---since it is
Mari Montgomery Realty
funding the efforts.
I love
Huntsville TX
.  I love being a part of this community.  I love living in a college town where
"BearKats"
roam the streets.
I LOVE being a Realtor.
  I have NEVER been happier and I seem to get happier every day, week, month and year.  I am a lucky girl.
All the best to you, Mallory Conner!  May you and your amazing smile touch many lives through your work in Music Therapy.  God bless you!  Thanks for the opportunity to be a small part of your life!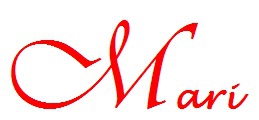 copyright 2008-2012 East Texas Property Search, Mari Montgomery Realty
Posted By: Mari Montgomery
Filed in:
Company News / Realty News
Tagged:
mari-montgomery-realty-music-therapy-scholarship
,
sam-houston-state-university
,
shsu
,
mallory-conner
,
singing
,
music
,
Mari-montgomery-realty
,
Huntsville-TX-Real-Estate
,
Huntsville-TX-Homes-For-Sale
,
Conroe-Homes
,
Lake-Conroe-Real-Estate
,
Lake-Livingston-Waterfront
Login
or
create a profile
to post a comment