Facebook in Huntsville TX Real Estate and More! WHO is Yul Brynner?!
Mon. January 7, 2013 at 05:15 AM
Social Media---Social + Media. Fast track to "getting to know you, getting to know all about you" (okay---how many of you heard the song from the "King and I" in your head???) It's a different world than Cary Grant's of "Judy, Judy Judy" fame or Yul Brynner whose most famous role was the King of Siam in "The King and I."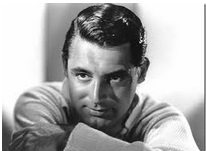 Scene from The King and I Cary Grant
See--half of you don't even know who Yul Brynner OR Cary Grant is. For the first time in my life (well, maybe not the first), I'm not the young one with the new ideas, taking the newest risks, trying the newest things.

That's it--it's a generation gap. This is the point where I suspiciously start sounding like my parents. I Facebook--But I can't be a part of the "Under 40 Social Networking Club" in my MLS Area-seriously, I can't. For the first time in my life---really this time---I feel older.
So, where does Facebook come in. As far as Real Estate, I think it probably serves more of a "business" role for agents who are serving an area where they have been for a very long time or grew up there. Kind of to remind everyone what they do. (Lake Conroe Real Estate, Huntsville TX Real Estate, Lake Livingston Real Estate) For people in general, it means so may different things and fills so many different roles.
For me, it's kind of a strange and varied place where I meet up with people I haven't seen in 30 years --like people I went to High School with- (Okay--Cat's out of the bag in terms of age), catch up with former students telling me what's going on in their lives or asking for advice. (I used to be a teacher--always will be,I guess) As our culture becomes more private, it's rather counter intuitive to hyper intensify the socialing process. Kinda interesting case study, I guess. Facebook serves as an invitation to "put yourself out there," to become accessible as much as you would like to be.
What is Facebook to you???????????? I really want to know. What's on Your Mind?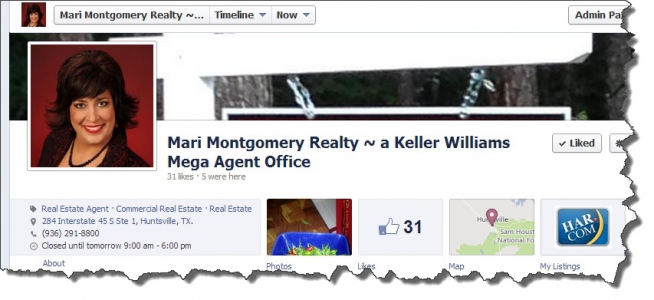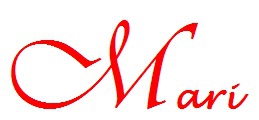 Mari Montgomery

Licensed TX Broker, CRS®, GRI®
Top Agent Magazine Cover Agent/ Houston Area, December 2012 (http://www.topagentmagazine.com/) 2012 Houston Five Star Real Estate Agent, 2010 Winner of the QSC Best in the Business Award, 2009 Winner of the People's Choice Award-Best Realtor in Walker County, #1 Realtor Keller Williams Conroe/Lake Conroe/Huntsville. Member, Platinum Circle Keller Williams Realty International, #1 Single Family Home Sales in Walker County
284 Interstate 45 S, Ste 1, Huntsville TX 77340 Serving: Huntsville TX, Lake Conroe & Lake Livingston
Copyright 2009-2013.© East Texas Property Search, Inc. / dba Mari Montgomery Realty Mari Montgomery. All Rights Reserved.
Posted By: Mari Montgomery
Login
or
create a profile
to post a comment