In loving memory....Virginia F Montgomery--"Jenny"
Mon. May 6, 2013 at 02:50 PM
Virginia F Montgomery, July 25, 1927--(dash)--April 30, 2013 at 9:20pm
Laid to rest yesterday, Sunday May 5th, 2013 in Nacogdoches, TX
Oh, what SHE did with the "dash". My hero. 3-time cancer survivor. The fourth she fought unlike anything I've ever seen.

There will be many more stories about Jenny. Now, just tears
Survived by my father-in-law, Mel. He is an amazing man!
I love you Jenny, I will miss you so much!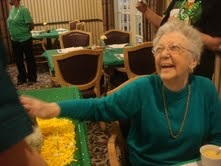 Posted By: Mari Montgomery
Login
or
create a profile
to post a comment